Ever wonder about the differences between the types of artificial Christmas trees?
Here are some of the most popular artificial Christmas trees.
Find out about the differences and then decide which one is best for you.
Artificial Christmas Trees
Just like real trees used as Christmas trees, every artificial Christmas tree has a distinct, realistic look that varies by size, needle length, texture, color, branch shape and density.
Some trees are fuller and more dense. Others have more spacing in between the branches and needles allowing for more decorations.
So, if you love the more the merrier when it comes to adding ornaments and decorations to your Christmas tree, you may want to opt for a less full artificial tree.
Our trees offer a greater tip density so that every tree looks fuller and more alive than other trees on the market. And every tree is ready for your decorations.
---
Sponsored Ad
---
Types of Artificial Christmas Trees
Fraser Fir
Characteristics of a Real Fraser Fir Tree:
Needles are pointy and almost sharp
Branches are strong and spaced apart
Grows in a pyramidal shape
Our Artificial Fraser Fir:
One of the most popular of all real Christmas trees, it is no wonder that there would be a fantastic artificial version of a Fraser Fir tree.
This popular tree has soft, silvery-green needles and stiff, spaced branches perfect for hanging ornaments.
The needles on the branches are also not very long allowing easy placement of ornaments on each one.
---
Sponsored Ad
---
Balsam Fir
Characteristics of a Real Balsam Fir Tree:
Lustrous dark green needles ?–1″ in length
Tips are blunt, rounded or notched – not pointy or sharp
Branches grow fairly close to each other
Grows in a pyramidal shape
Our Artificial Balsam Fir:
Due to its natural beauty, Balsam Firs are one of the favorites of the traditional Christmas trees. They features beautiful dark-green needles with airy branches.
Notice that the needles are longer and bushier than the Fraser Fir making it less open to as many decorations and ornaments.
---
Sponsored Ad
---
Balsam Firs versus Fraser Firs?
A quick comparison of 2 of the most popular Christmas trees – both real and artificial.
While both the Balsam Fir and Fraser Fir are traditional choices for real Christmas trees, there are 3 main differences between the two. They are the needle type, branch strength and fullness.
Balsam Firs tend to have softer needles. This means that the needles lay flat so when you grab a branch with your hand, it's not sharp. The fuller, flat look of the Balsams branches and needles makes them ideal for wreaths and other Christmas decorations.
Fraser Firs have pointier needles making them almost seem sharp. When you touch them, you may feel like you are touching a blunt needle.
---
Sponsored Ad
---
Fraser Firs grow slower than Balsam Firs which means they have stronger branches than Balsams. What does this mean for you?
It means that you can hang heavier and larger ornaments on a Fraser Fir branch than on a Balsam Fir tree and it will withstand it easily.
Due to the rate of growth of a Balsam Fir – which is faster than a Fraser Fir – they have less strength in their branches. This means a Balsam Fir can tolerate less size and weight on each branch than a Fraser Fir.
Balsam Firs are most often fuller in their look with more, closer growing branches. Fraser Firs branches are more spaced out giving it a more open feel – perfect for loading with tons of decorations.
---
Sponsored Ad
---
Noble Fir
Characteristics of a Real Noble Fir Tree:
Needles spreading in 2 rows and 1–1½" in length
Needles are distinctly curved at the tip, grooved above and ridged beneath
Grows in a pyramidal shape
Our Artificial Noble Fir Tree:
This tree has deep green needles with sturdy, tiered branches. Noble Firs are a rare variety unique to the West Coast.
---
Sponsored Ad
---
Snowdrift Noble Fir
A full artificial Christmas tree, this Noble Fir differs in that it comes fully snow flocked. As the Snowdrift name implies, it is like has just been windswept by a nearby winter storm.
A winter wonder, with a dense layer of flocking spotlighted by up to 2,800 warm white LEDs. The lush foliage, masterfully created from molds of natural cuttings, is designed with natural pockets for decorating and branch placement.
---
Sponsored Ad
---
Douglas Fir
Characteristics of a Real Douglas Fir Tree:
Not really a Fir tree at all, the Douglas-Fir, when referred to scientifically, is actually a False Hemlock. This is the reason for the hyphen in the proper name.
Needles are flat with a pointed tip and appear to stand out around the twig
Our Artificial Douglas Fir Tree:
Native to the West Coast, these have soft, dark blue-green branches with 1- to 1-1/2-inch needles that spread in every direction from the branches.
---
Sponsored Ad
---
Fir Tree with Freshly Fallen Snow
For those who really want to bring the outdoors in, you may want to choose an artificial tree which has been flocked with snow.
This artificial Christmas tree features a realistic dusting of artificial snow on its lush foliage – similar to a Fir tree.
---
Sponsored Ad
---
Alpine Spruce
We call this one our "decorator's delight" due to the open branches and natural pockets that make it an ideal tree for showcasing larger, more elaborate ornaments.
Decorate to your hearts content with this more open spaced (less full) artificial Spruce tree. For those who believe in 'more is more', this may be the Christmas tree for you.
---
Sponsored Ad
---
Starry Night Microlight Fraser Fir
A version of the Fraser fir, this artificial Christmas tree is a lifelike seasonal spectacle, adorned with up to 9,300 microlights on the largest size.
---
Sponsored Ad
---
Gallatin Pine
Inspired by trees on the mountains of Montana's Gallatin National Forest, this tree has a slender silhouette and is designed with natural pockets for decorating.
---
Sponsored Ad
---
---
Sponsored Ad
---
Blue Spruce
Characteristics of a Real Blue Spruce Tree:
Needles are stiff, prickly and roughly 1–1½" in length
Grows in a columnar, pyramidal shape
Our Artificial Blue Spruce Tree:
This tree duplicates the characteristic silvery needles and perfect-pyramid shape of the famed Colorado Blue Spruce.
Due to its bowed bottom shape, this artificial blue spruce Christmas tree seems very well suited for those who have lots and lots of gifts – or very large gifts. The rounded bottom allows more space for Santa to pile the gifts on high.
---
Sponsored Ad
---
Oregon Pine with Color Changing Lights
A lush evergreen pine replica with lighting options: Select Warm White or Multicolor steady lights, or choose the color-changing or twinkle functions.
---
Sponsored Ad
---
Rose Gold Shimmer Tree
If you like rose gold jewelry, then you will love this artificial tree done in shimmering rose gold needles.
This shimmering showpiece is a modern take on merriment. Each tinsel-like, rose gold "needle" is glossy on one side with a matte finish on the other. The glamorous, 9 ft. profile is bathed in 1,500 LEDs.
---
Sponsored Ad
---
Gemstone Tree
This fully gemstone flocked tree may be further away for the traditional green Christmas tree but, imagine the possibilities – and the instant glam that comes with it.
Use this Christmas tree indoors or outdoors.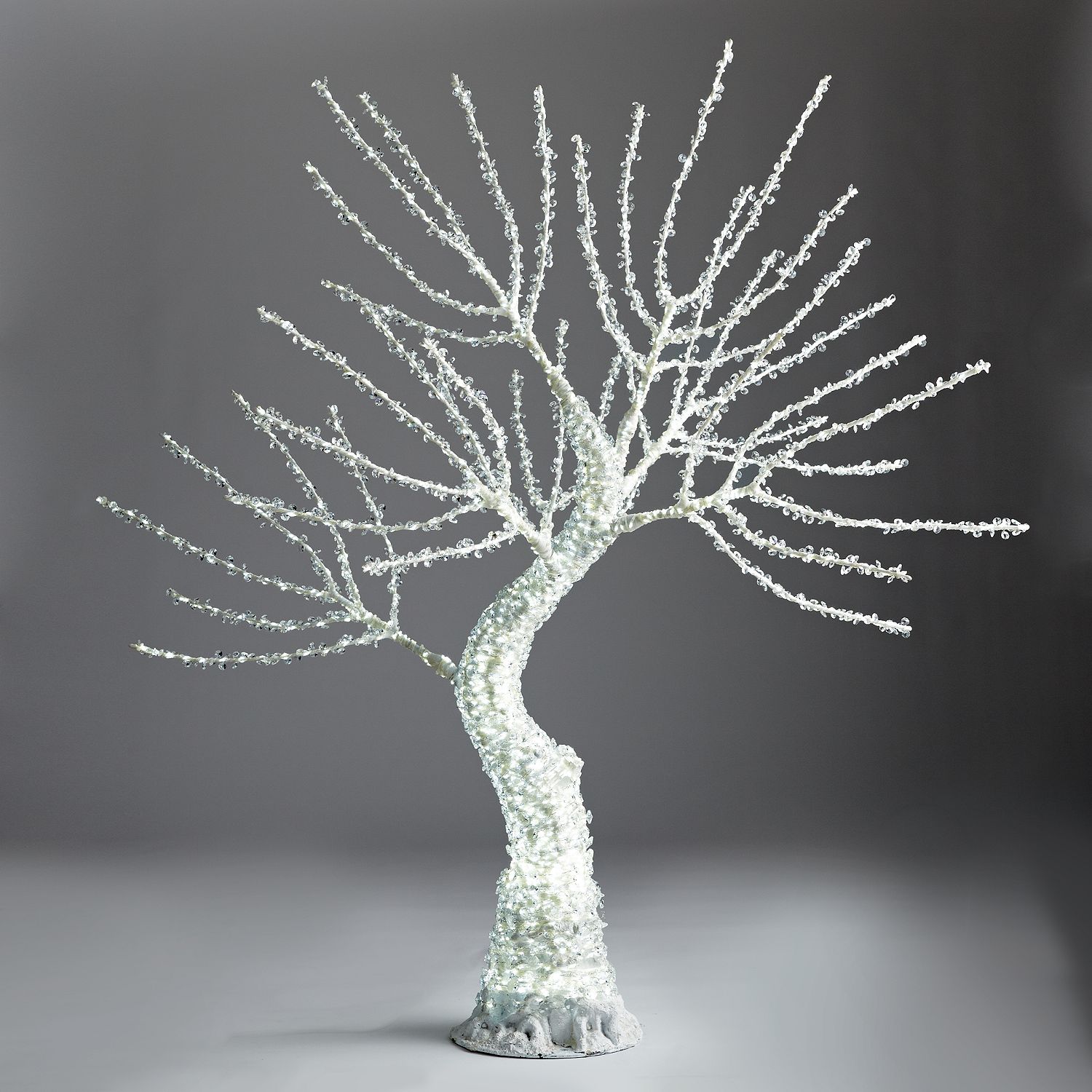 ---
Sponsored Ad
---
Pick Your Tree
Whichever artificial Christmas tree you choose will depend on several things – the type and style of tree you prefer, the space you have for a tree and as always, the money you have to spend on an artificial Christmas tree.
The Style of Tree You Want
Choose your tree based on the look you prefer, how many ornaments you like to have on it as well as the amount of lighting / LED lights you desire.
As you have noticed, there are real differences between the branches, needles and fullness of each of these trees – both in real life and the artificial versions.
Make your choice simply based on which one you like the look of or opt for one which suits your decorating style best – that is, if you like to fill your tree with decorations, you may want to choose a less full tree so that you have more room for your beautiful ornaments and ribbons.
As well, if you like tons and tons of lights, choose a pre-lit tree with a higher number of pre-installed lights.
---
Sponsored Ad
---
The Size of Your Room
Most of these trees are available in a variety of heights as well as full and slim versions. So, depending on your room size and the height of your ceilings, choose accordingly.
As I most often say, the bigger the better. If you have 20 foot ceilings, do not settle for a standard 7.5 foot Christmas tree. Go for a 12 foot one or higher. It will suit the room's scale much better and won't look too small.
Your Budget
Always the least fun element of any design project is the budget – unless, of course you have an unlimited one.
As may be obvious, the taller the tree, the more expensive it will be. The same is true of a full tree version versus a slim option.
Ultimately, it is best to choose your tree based on the size of your room and the amount of space you have for a Christmas tree. I would always advise choosing the largest tree you can – which, of course, fits into your budget.
---
Sponsored Ad
---
Decorate your Tree
Don't forget to add some ornaments to your Christmas decorating list. What is a tree without some beautiful ornaments.
Choose from individualized ornaments to color themed ornaments to traditional Christmas ornaments – or make a mix of all of the above.